BCT: Automatic machining of individual parts
During tool and mold construction, as well as during the manufacture and repair of aero-engine components, the real machining strategy differs from the previously planned approach. Parts are not clamped in the foreseen position and with the foreseen orientation – or they display individual differences in shape caused, for example, by production-related fluctuations or wear during operational use. Taking account of these deviations usually requires complicated manual machining. This does not have to be the case!
BCT solutions capture the position and shape of each individual workpiece prior to machining and transfer a predefined strategy to these parts. They do this separately for each part but nevertheless in an automated manner! We call this approach Adaptive Machining.  Learn more about AM developments, applications and solutions. Ask us how we can solve your problems!
Your Advantages:
AM automatically takes account of individual part shapes.
A long and complicated manual setting-up process is no longer necessary.
The requirements for the fixture are reduced, which in turn lowers costs.
There are fewer rejects.
Manual reworking is minimized.

OpenARMS
BCT's system OpenARMS (Open Adaptive Repair and Manufacturing Software) is employed in situations where the individual shape of parts – as well as varying clamping positions – have to be taken into account. The integration of different CAD and NC formats permits smooth cooperation with customer-specific systems. OpenARMS can be connected to various NC controls and the integrated measurement module supports both tactile and optical sensors. Based on information on the current part, geometric adaptation of the manufacturing program is undertaken. During this process, the specifications are automatically transferred to every single individually-shaped part. The close connection to NC machines makes it possible to carry out automatic processing – similar to series manufacturing – despite differences between the individual parts.
OpenARMS is the link between the CAD/CAM description of the part and the real individual parts. This adaptation is not limited to special manufacturing methods. When turbine blades are milled or ground, for example, the adaptation of the machining paths makes the laser powder fusion welding process more precise. During the processing of carbon-fiber composite parts, OpenARMS permits targeted material removal on each single, individually shaped part as a preliminary step prior to repair.
Learn more about developments, applications and solutions in our brochure – or test us!
Your advantages:
Taking account of the individual shape and position of the parts
Integrated capture of part shape and position via either optical or tactile sensors
Automated machining via direct connection to the machine centers
Adherence to tight tolerances even for individual shapes
Aero-engines and gas turbines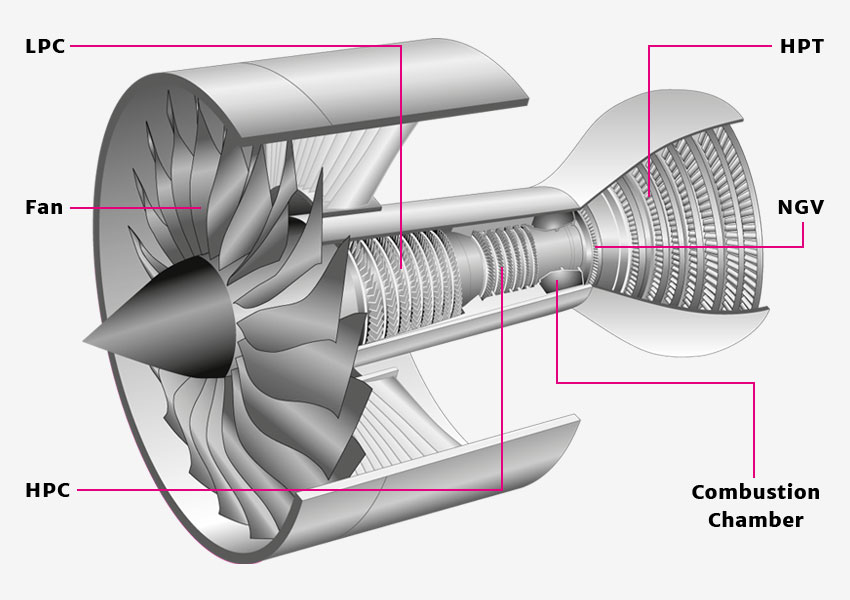 Fan
New part: During the final machining of forged blades, snubbers are milled in accordance with the nominal geometry: a gentle transition to the blade surfaces is achieved by adaptation. Other applications include profiling of leading and trailing edges and machining of the platform.
Repair: Recontouring of the leading edge
Compressor
New part: Final machining of linear-friction-welded blisks
Repair: Recontouring of welded-on or patched tips or leading and trailing edges Fusion welding for tip repair

Combustion chamber
Repair: During repair of cracks, adaptive systems help to automate complex repairs and welding processes. Suitable strategies are selected here independently of the extent of the damage.

Turbine 
Repair: During a tip repair, OpenARMS captures the individual shape and position of the particular blade and takes it into account during the subsequent reprofiling by milling or grinding. See system integration.
Repair: Here OpenARMS supports the welding process carried out to reconstruct the seal profile in the tip region.
Turbine stator vanes
Repair: High loads cause a change in the blade profile. Following a previous soldering process, adaptive machining allows for automated reprofiling and thus the restoration of aero-engine capacity.

Blisk manufacturing
New part: OpenARMS removes the retaining elements needed during friction welding of blisks and creates a gentle transition to the annular space. The complete work sequence (measurement, calculation, performance) is monitored by OpenARMS.
Machining of carbon-fibre parts
Background: the principle of adaptive machining.