Adaptive machining technology
Adaptive technology is used when components are shaped individually and as a result NC machining with "fixed" NC programs is not feasible. This can occur, for example, during the overhaul of worn-out turbine components. 


OpenARMS
With OpenARMS (Open Adaptive Repair and Manufacturing Software) BCT provides a flexible solution for adaptive machining. OpenARMS compensates for both individual deviations from normal shape and inaccurate clamping positions. This is achieved by process-integrated or external measuring of the workpieces and processing to create geometrically adapted NC programs. As a result, each individual workpiece can be machined within the specified tolerances.


5-axis milling, grinding and metal deposition
OpenARMS runs on a PC and is connected directly to the NC control of the 5-axis machine. OpenARMS can be employed to automate a large number of processes (e.g. metal depositions, grinding and milling) for the machining of individually shaped components.


Open concept = your freedom
The choice is yours: you can provide the machining technology yourself or have BCT prepare all the parameter and data sets for your components and machining tasks. OpenARMS allows you this kind of freedom. 
The modular OpenARMS concept gives you the flexibility you need to expand your installation by adding applications in the future.

OpenARMS interfaces for NC post-processors and machine kinematics permit operation with a wide range of controls and NC systems.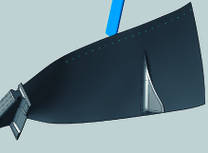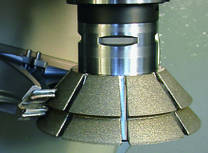 The perfect Synthesis of Shape and Position
OpenARMS in the workshop
BCT systems are workshop solutions. OpenARMS has been designed for machinery operators, it is easy to learn and safe to use.
Setting-up in the interactive setup mode
OpenARMS is an innovative and efficient software solution for the automation of adaptive machining. Thanks to its openness and graphic user interface, new machining procedures can be defined quickly in the setup mode:
The component geometries are read in via standard CAD interfaces such as IGES or STEP.
The NC machining strategies are accepted via standard interfaces such as CLDATA or in the commonly used NC formats.
Measuring strategies for capturing individual shape and position are programmed via the integrated CAM measuring module.
The sequence of adaptive machining processes can be adjusted or altered to suit the particular task at hand.
Automated machining in the run mode
Adaptive machining takes place automatically in the run mode – the way you are used to from NC operation. OpenARMS controls the entire automated sequence of adaptive machining including the necessary measurements and calculations. All you have to do is start the machine – OpenARMS does the rest.